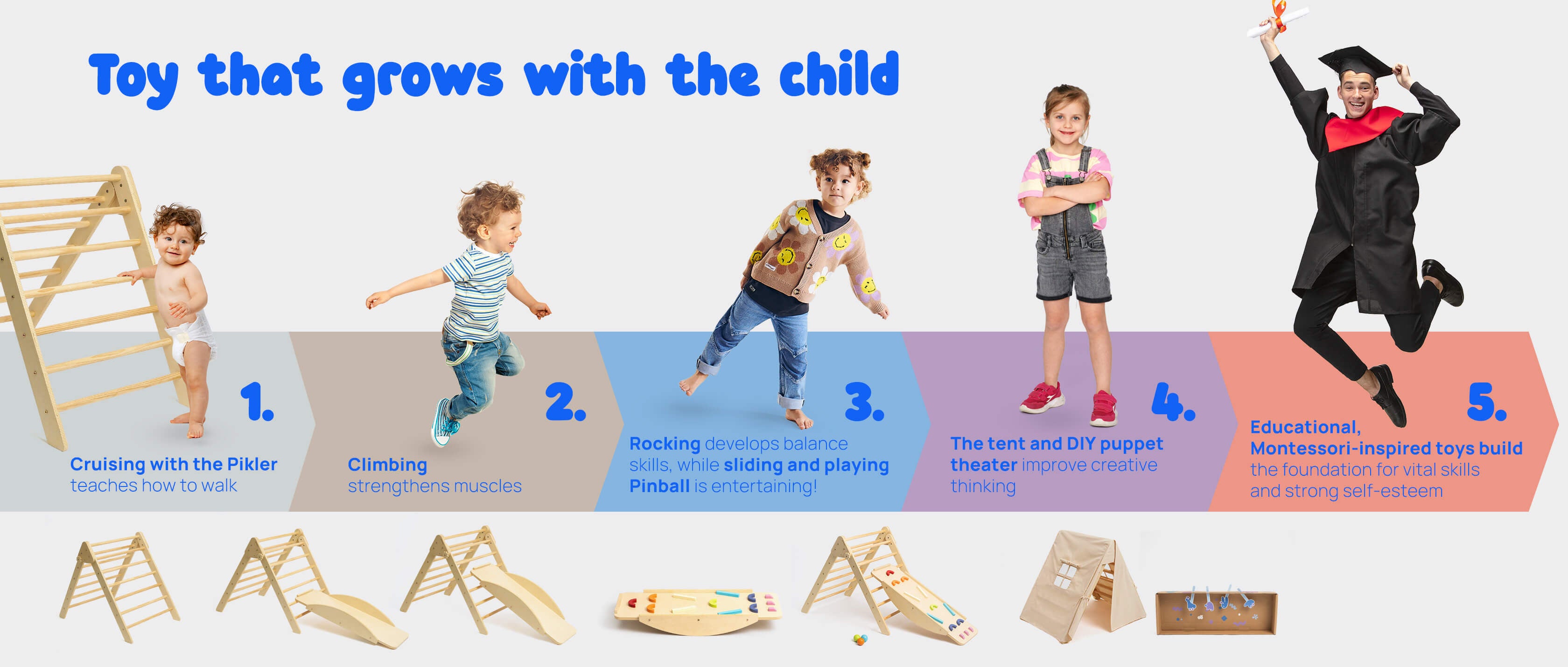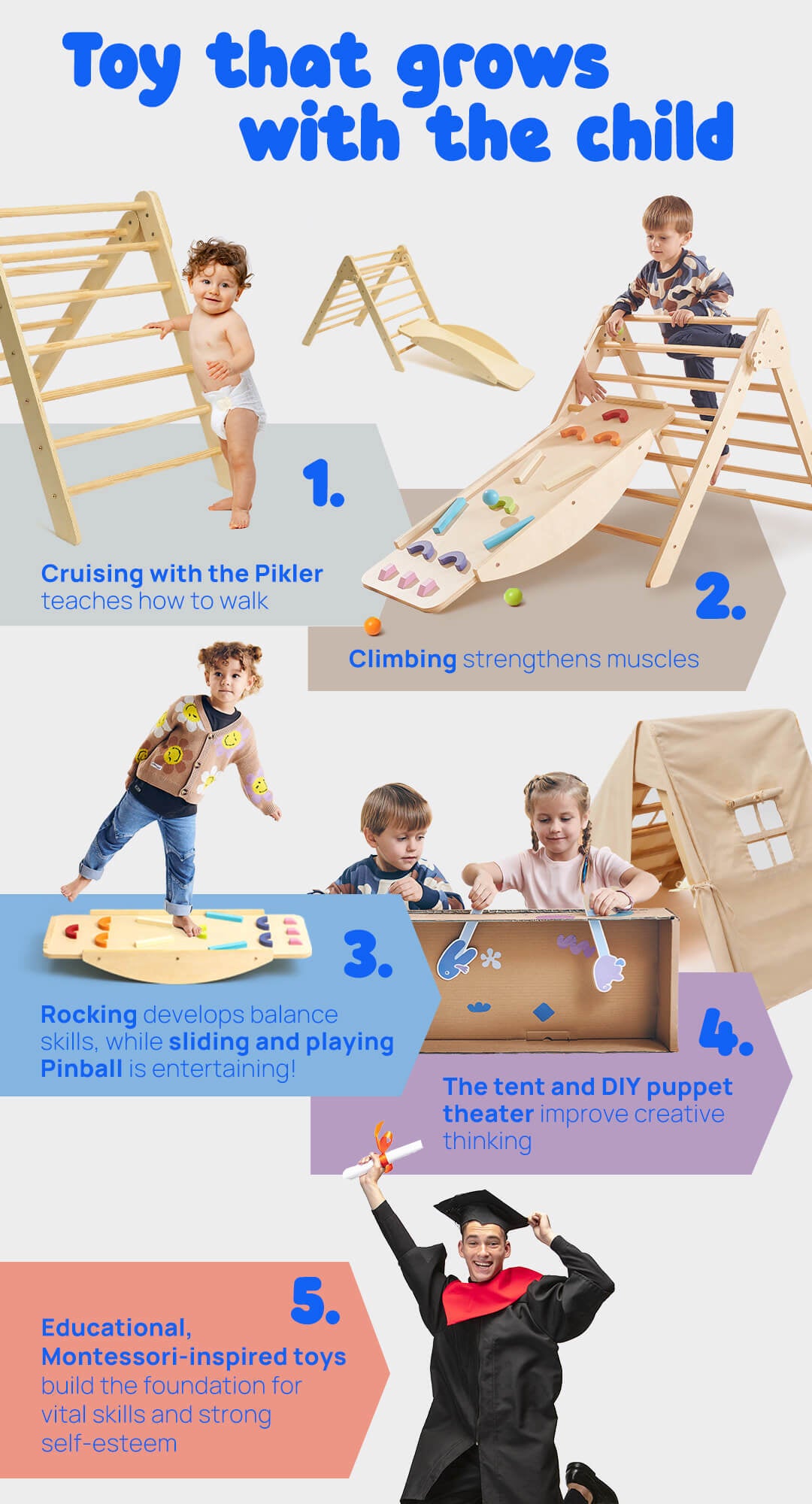 Click the video 🔊 & learn all you need to know about GROWGO Pikler triangle
💸 Play now & Pay later
🛡️$0 Delivery
💸 Play now & Pay later
🛡️$0 Delivery
💸 Play now & Pay later
🛡️$0 Delivery
💸 Play now & Pay later
🛡️$0 Delivery
GROWGO
Pikler Triangle Kit 6 in 1 - Unique Patented Design, Inspired by Montessori
Get it between -
📦 Free delivery applies
📞 Got a question? Call us at 1-707-536-0748
💸 Hassle-free returns
🏦 Play now & Pay later with Shop Pay or Sezzle at checkout
⛑️ Safe: passed the ASTM standard & received US CPS certificate
Buy on Amazon
👶 DEVELOP PERSONALITY & PHYSIQUE:
Encourages Confidence & Creativity
Builds Muscle Strength, Balance & Agility
Improves Postures
Develops Fine & Gross Motor Skills
➕ PRODUCT INCLUDES:
Foldable Pikler Triangle

 (from 6 months with parent guidance)

Double-Sided Ramp

 

(from 18 months with parent guidance)

: 

Rocker & Slider Features
Pinball Game Feature + 3 Wooden Balls

Tent 
Package as DIY Craft Game (Turn it into a Puppet Theatre)
➕MATERIALS:
Non toxic water based paint

Pikler's structure and ramp from birch plywood

Pikler's dowels from pine wood

Safety tested to 16 CFR Part 1307 & certified
 

 Folded Pikler size:

Length: 36.2 IN
Width: 27.6 IN
Bottom height: 5.5 IN
Top Height: 7.4 IN

Rocker/Ramp size:

Length: 39.4 IN
Width: 13.8 IN
Height: 5.32 IN
Simple assembly required. Pikler can hold the weight of roughly 100 pound.
6 configurations – 6 toys in one! Kids will never get bored!
A unique patented design that grows with the child






Hope we heard your questions
Here are some answers we hope will let you make a better decision
What is the purpose of a Pikler Triangle?
It develops children's gross motor skills & confidence while providing a safe & fun environment that inspires independent exploration.
Why should You choose GROWGO Pikler?
The unique patented GROWGO's design allows for 6 different play configurations, making it a multipurpose toy that kids will never get bored of. Made of safe, high-quality materials, it's long-lasting and will grow with your child.
How does it help my child develop?
In many ways! GROWGO Pikler triangle helps children develop gross motor skills, balance, & coordination, builds muscle strength, grows confidence & independence, and improves creative thinking & problem-solving skills.
How long do they last?
It's designed to last for years and grow with your child. Starting with toddlers, it will serve all the way until your child starts going to school.
Is it safe for my child?
Yes, it is! The GROWGO Pikler triangle passed the ASTM standard & received the US CPS certificate. It's made with safe, high-quality materials and features a sturdy construction.
Do you make anything else?
We do! GROWGO offers a range of educational children's products, such as Stepping Stones, Balance Beams, and Fort Building Kit. Together with the Pikler, they make the ultimate home play gym.
Build the Ultimate Home Play Gym
Save over 10% on Bundle Deals!
Featured in:
Montessori inspirations and methods which can make difference for every child's early development.




Frequently Asked Questions
What are your shipping details?

Our products ship from warehouses all over the US, allowing us to deliver parcels quickly
Shipping rates may change over time; special offers can be found at the top of the site
Shipping rates will be applied during the checkout process
Order processing time usually takes 1-2 days
In most cases, parcels arrive within 5 days
We utilize USPS, UPS, or FedEx services for our deliveries.
What is your return policy?

-Optionsare: refund or product replacement
-A 2 year warranty covering workmanship and materials of sold items
-Coverage for flaws that appear during usage due to the quality of manufacturing or materials used
-The warranty is void if any mechanical damage or tear from the user is found
-No warranty is provided for paint coating or varnish
Who do I contact for issues or questions for my order?

Contact  GROWGO support at hello@growgokids.com. You'll receive an order confirmation email with a link to see your order status and how to contact the online store.