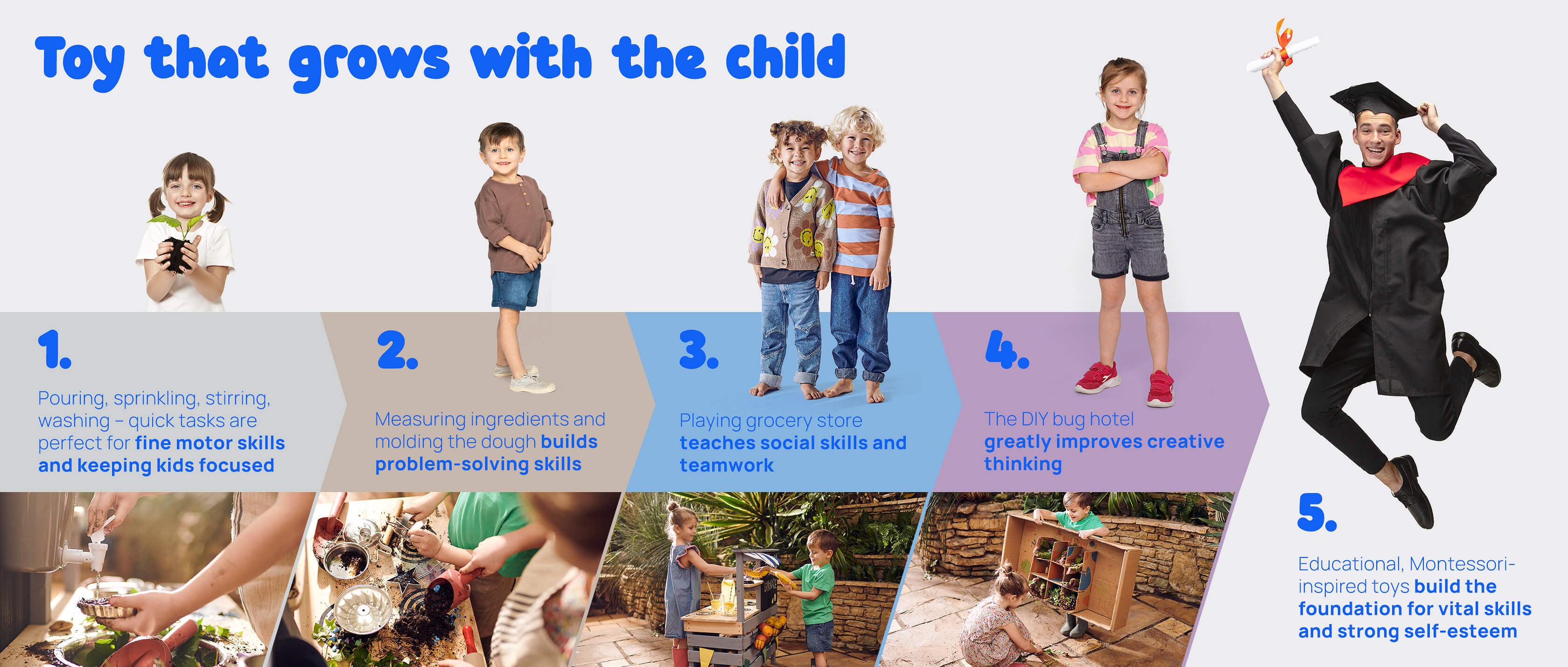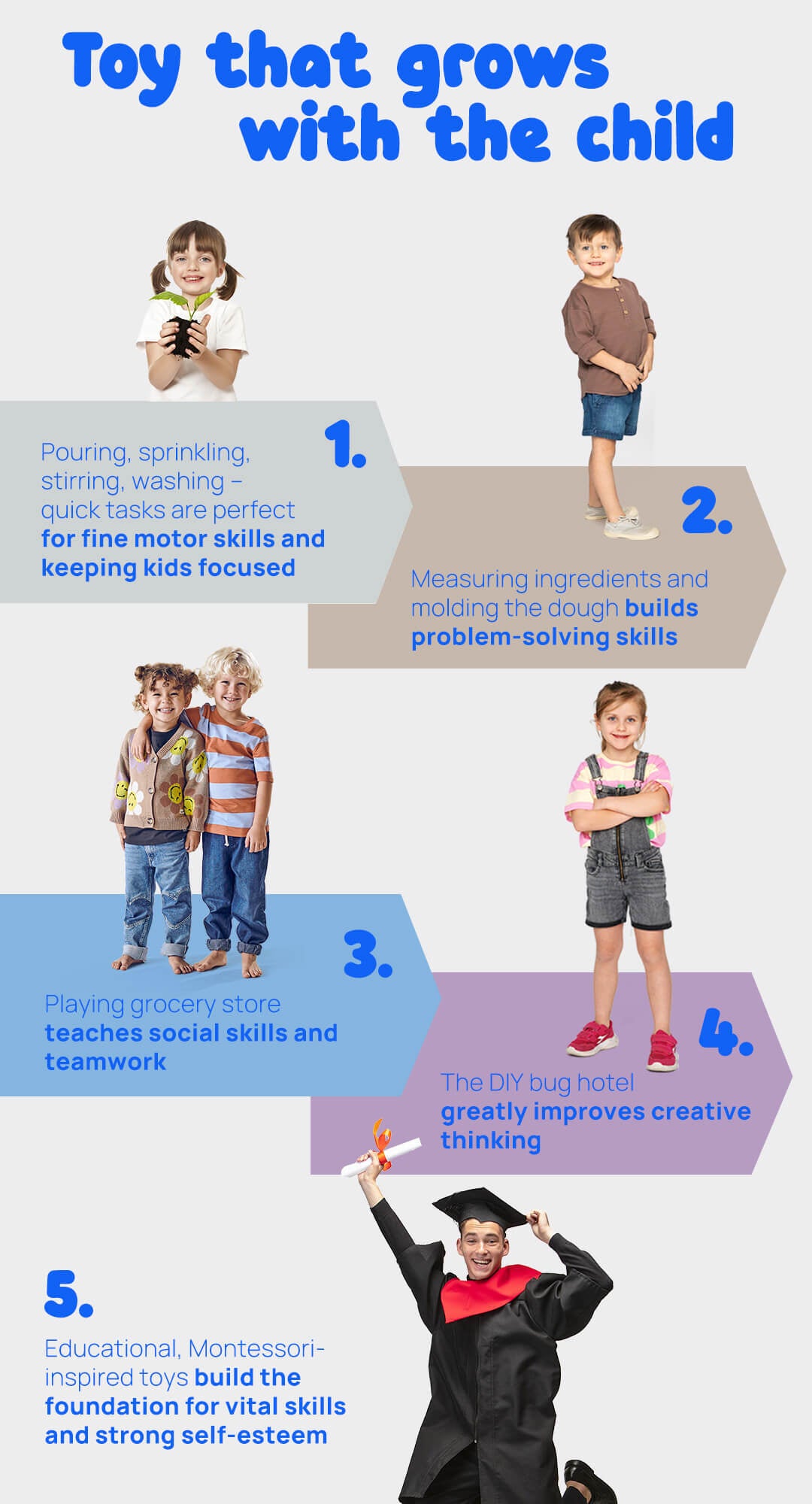 Click the video 🔊 & learn all you need to know about GROWGO 2in1 Mud Kitchen
🚚$0 Delivery
💸 Play now & Pay later
🛡️US based Stock
🚚$0 Delivery
💸 Play now & Pay later
🚚$0 Delivery
💸 Play now & Pay later
🛡️US based Stock
🚚$0 Delivery
💸 Play now & Pay later






GROWGO
2 in 1 Wooden Outdoor Mud Kitchen & Grocery Store Pretend Play
Get it between -
📦 Free delivery applies
💸 Hassle-free returns
🏦 Play now & Pay later with Shop Pay or Sezzle at checkout
⛑️ Safe: passed the ASTM standard & received US CPS certificate
📞 Got a question? Call us at
1-707-536-0748
🥧 2 IN 1 - This double-sided stand acts as a wooden kitchen/toy grocery store! Montessori-inspired, this durable & sturdy outdoor kitchen allows kids 1-7 to play house, teaching useful everyday skills.
🛡️ WATER-BASED COATING - Waterproof coating protects the natural, solid wood & keeps the beautiful color of this outdoor play market stand for kids. Children can have fun baking mud pies & playing ice cream stand anytime!
🚰 WATER TAP - This toddler sink toy with running water lets kids easily mix mud batter & wash dishes! The stainless-steel sink is removable, while the 50 oz water tank has a functional faucet. With running water, kids will spend hours playing outside!
🖍️ BLACK BOARDS & OVEN - This cute kids play grocery store features mud kitchen accessories (pots not included), such as 2 blackboards for the menu, a bell for notifying customers, 2 wire baskets, & a realistic oven door with a magnetic lock.

🐞 BUG HOTEL - The box of this lemonade stand for kids transforms into a bug hotel! The manual guides you through every step of assembling both the kitchen & bug hotel. Versatile, fun, & educational, it's the best unique gift!
Mud kitchens like GROWGO's mud kitchen provide all the materials needed to "cook" pretend "food," open a play grocery store, or sell lemonade or ice cream. All you'll need to add is a pot or two, some pans, and your child's imagination.
Product includes:
1 x Double-sided kitchen stand with solid wood counter/table (assembly required)
1 x Bell
2 x Wire baskets complete with hooks for secure storage
1 x Plastic water container with a working faucet - The container holds a capacity of 50 oz
1 x Sink bowl (stainless steel)
1 x Canopy (polyester)
1 x Manual screwdriver
1 x Set of screws
1 x Instructions manual
1 x Package box that transforms into a bug hotel
Materials:
FSC-certified fir timber
Safety tested to 16 CFR Part 1307 & certified

Water-Resistant Coating: The specially designed non toxic paint 
Mud Kitchen size:
Length: 33.5 IN
Width: 14 IN
Height: 35.6 IN
GROWGO Bestsellers
Try standalone product or find special offers when buying product bundles
Hope we heard your questions
Here are some answers about the product
What is a mud kitchen?
A mud kitchen is a role-playing toy that takes the old-fashioned concept of making "mud pies" to a modern and updated sensory play activity. With a working sink, a few additional kitchen utensils, and some sand or dirt, your children will learn texture and social interaction in one fabulous DIY mud kitchen.
How do you use a mud kitchen?
Mud kitchens expand a child's imagination as they pretend to "cook meals" or involve themselves in social interactions with role play selling their very own mud kitchen creations. The mud kitchen can also double up as a lemonade stand or grocery store.
Is it worth buying a mud kitchen?
Absolutely! The GROWGO team has created a durable toy that can withstand outdoor conditions for an extended period of time. Additionally, we have ensured that it is both educational and multifunctional, so children won't get bored easily. In our opinion, investing in a GROWGO Mud Kitchen is definitely worth it.
What age is a mud kitchen good for?
GROWGO's mud kitchen is suitable for toddlers but also a great option for older kids up to seven years of age. They will have hours of outdoor mud kitchen fun!
Is GROWGO an indoor or outdoor mud kitchen?
The GROWGO mud kitchen can be used indoors, but it is best for outdoor play. P.s. We do suggest to keep it inside during harsh winters
Are mud kitchens good toys for children?
Yes, they're great for kids! GROWGO's mud kitchen is the best mud kitchen around. They'll have endless hours of fun
Build the Ultimate Home Play Gym
Save over 10% on Bundle Deals
Featured in:
Montessori inspirations and methods which can make difference for every child's early development.




Frequently Asked Questions
Find out about Buy with Prime orders here.
WHAT ARE YOUR SHIPPING DETAILS?

Our products ship from warehouses all over the US, allowing us to deliver parcels quickly
Shipping rates may change over time; special offers can be found at the top of the site
Shipping rates will be applied during the checkout process
Order processing time usually takes 1-2 days
In most cases, parcels arrive within 5 days
We utilize USPS, UPS, or FedEx services for our deliveries.
What safety testing does GROWGO follow?

GROWGO products have been tested by accredited product testing laboratories Intertek and have passed ASTM standards. Additionally, these products have also received US CPS certificates.
Where can I check the status of my order?

You can check your order status by clicking on the link in your shipment confirmation email, which will bring you to your order details page. For Buy with Prime purchases, you can't see or track orders on your Amazon.com orders page or in the Amazon mobile app.
Who do I contact for issues or questions for my order?

If you either have a question or experience an issue with your Buy with Prime order, contact  GROWGO support at hello@growgokids.com. You'll receive an order confirmation email with a link to see your order status and how to contact the online store.